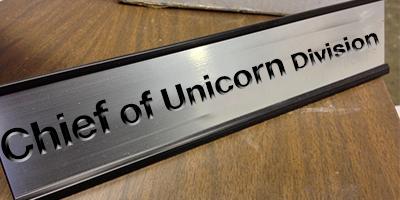 Chief of Unicorn Division
Introduction
Executive titles and organisational structures are always hugely topical, and also hugely challenging! Get them right and you have the foundations for a highly motivated and focused team that can achieve greatness. Get them wrong and your business can become distracted, lose focus and possibly fail!
Titles
In recent years we have seen some bizarre executive titles. Google's Larry Page, Sergey Brin and Eric Schmidt assigned Vint Cerf as their 'Chief Internet Evangelist'. The title caused a bit of confusion for Cerf on a trip to Russia when his hosts asked if he believed in God as they understood the term "evangelist" to be a religious preacher! Buffer Co-founders Joel Gasciogne and Leo Widrich gave Carolyn Kopprasch the title of 'Chief Happiness Officer'. Dell has appointed Chief Listeners. Facebook has two Chief Privacy Officers, Microsoft has a Chief People Officer, Xerox a Chief Strategy Officer and New York City has a Chief Digital Officer.
Based on a very brief Google search, I identified a staggering 45+ C-Level roles in active use today:
CHIEF ACCOUNTING OFFICER)
CHIEF ADMINISTRATIVE OFFICER
CHIEF AMAZEMENT OFFICER
CHIEF APPLICATIONS ARCHITECT
CHIEF AUTOMATION OFFICER
CHIEF BRAND OFFICER
CHIEF CLOUD OFFICER
CHIEF COMPLIANCE OFFICER
CHIEF CONTRACTING
CHIEF DATA OFFICER
CHIEF DEVELOPMENT OFFICER
CHIEF DESIGN OFFICER
CHIEF DIGITAL OFFICER
CHIEF DIVERSITY OFFICER
CHIEF ECOSYSTEM OFFICER
CHIEF EXECUTIVE OFFICER
CHIEF EVANGELIST
CHIEF FINANCIAL OFFICER
CHIEF FREELANCE RELATIONSHIP OFFICER
CHIEF HAPPINESS OFFICER
CHIEF HUMAN RESOURCES OFFICER
CHIEF INFORMATION OFFICER
CHIEF INFORMATION SECURITY OFFICER
CHIEF INFORMATION TECHNOLOGY OFFICER
CHIEF INNOVATION OFFICER
CHIEF INSPIRATION OFFICER
CHIEF INTELLECTUAL PROPERTY OFFICER
CHIEF INVESTMENTS OFFICER
CHIEF LEGAL OFFICER
CHIEF MARKETING OFFICER
CHIEF OPERATIONS OFFICER
CHIEF PEOPLE OFFICER
CHIEF PERCEPTION OFFICER
CHIEF PRIVACY OFFICER
CHIEF PRODUCT OFFICER
CHIEF RISK OFFICER
CHIEF SALES OFFICER
CHIEF SECURITY OFFICER
CHIEF SOCIAL MEDIA OFFICER
CHIEF STRATEGY OFFICER
CHIEF SUPPLY CHAIN OFFICER
CHIEF TALENT OFFICER
CHIEF TECHNICAL OFFICER
CHIEF UNDERWRITING OFFICER
CHIEF USER EXPERIENCE OFFICER
Why so many? A new executive title can be awarded in lieu of increased salary and/or to help retain/motivate an employee. A recent review found that having a VP level title on your business card offset the need for up to $30K of additional salary! These titles can also be created in response to the perceived need for the business to add more focus to a particular area and is probably the case with roles such as the Chief Happiness Officer.
These motivations are not inherently wrong but they do need to be put into context of the overall organizational requirements to ensure they are credible and provide value add to the business.
Organisational Structures
There are a number of alternative ways to arrange your company organizational structure and different business needs will help to drive the decision you make here. It's inevitable that as your business moves from a start-up to a much larger organization there will be a need to adapt this structure to meet the needs of scale and complexity.
All businesses should fundamentally be organized around the following requirements:
Strategy
Operations
Marketing & Sales
Finance
Not surprisingly then the most common executive roles are:
Chief Executive Officer: Responsible for policy and strategy to provide direction for the business, determining which products and services to offer and to monitor the profitability of the company.
Chief Operations Officer: In charge of managing the overall day-to-day operations and people in the business.
Chief Marketing Officer: Their job is to obtain growth through sales and marketing and they may also be in charge of product development.
Chief Financial Officer: Keeps track of revenues and expenses, prepares and review tax documents, creates and manages budgets and prepares financial statements such as cash-flow and income statements and balance sheets.
Larger businesses may also have a Chairman to overall manage the board of directors.
Many organisations structure themselves in a traditional way as a hierarchy or pyramid. At the top are a small number of people who are overall responsible for directing the business. Their overall responsibilities are delegated and executed by levels of management below them. The lower down the structure you go the more people and the more specific the areas of responsibilities become.
Hierarchical structures can be aligned to function, product and customer to suit the needs of the business. Hierarchies have very clear areas of accountability, reporting lines and are very scalable structures. The downsides of a hierarchy are that people can feel constrained and 'silod' and it takes careful recruitment and career management processes to ensure high levels of motivation, and that the businesses leverages its people most effectively.
By taking out levels in the hierarchy you move to a flatter model and this can also be developed into a matrix with reporting levels both horizontally and vertically. The benefits of a flatter and matrix structures are that people can feel more empowered and involved, decision making can be faster and people can be encouraged to take on additional areas of responsibility.
The downsides of a flatter structures can be more confusion over reporting lines, unclear scopes of responsibility and decisions can be delayed by the need to consult more widely. Flatter and matrix structures have been implemented in some large well known businesses including GE, Bechtel, Citibank, Dow Chemical, Shell Oil, Texas Instruments, and TRW. Overall, flatter structures tend to be most successful in smaller businesses where their inherent challenges can be made into strengths.
Conclusion
If you are running a start-up, or small business, think long and hard before you allocate executive titles, especially if you're looking for investment as the more exotic titles may raise a few eyebrows and scrutiny. For mid-sized and larger businesses start with the organizational structure and take into consideration your business needs (e.g. function, product or customer), and projected business growth to put in place a structure that best meet existing and future requirements. Changing structures is a hugely challenging exercise and its better to have a robust structure that can be progressively evolved without the need for large scale change.
An organizational structure that has clear and challenging areas of responsibility supported by defined career progression will help your business to thrive. It will also help you to avoid the need to create new role titles to attract and retain talented people!