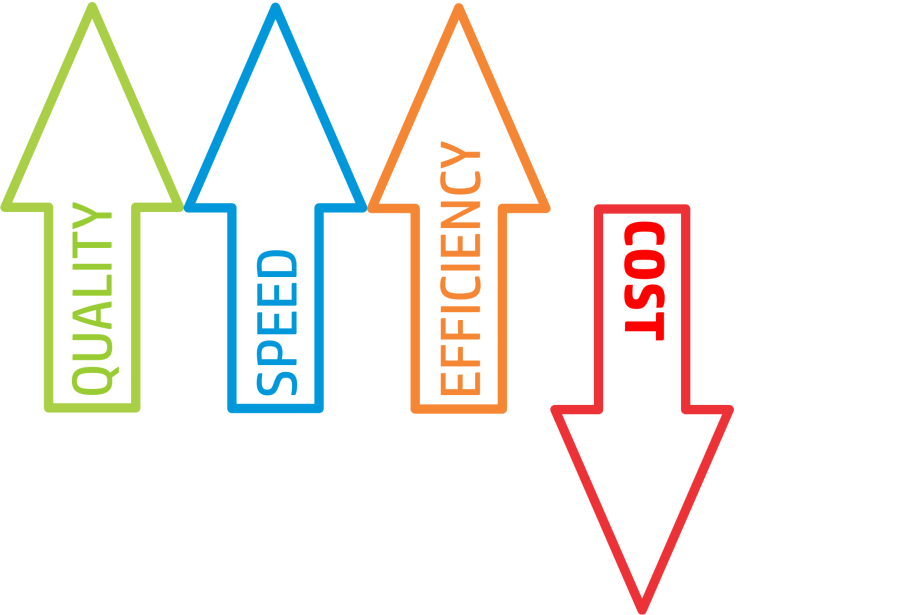 Outsource or Managed Service?
Introduction
In recent years the differences between outsourcing and managed services have become much more difficult to resolve as IT service providers have progressively offered more sophisticated, and a broader ranges of services, to meet new client demand, technology developments and to compete more effectively for new business.
In this article we take a look at these two approaches to see what the remaining differences are! In a follow-on article we will then take a much closer look at the future of managed services, particularly in a high-growth mid-market.
Outsource vs. Managed Service?
If you ask 10 people to define 'Outsource' and 'Managed Service' you will probably get 10 different responses back as neither are well-defined terms, or used consistently. Outsourcing probably first started to be used in the 1980's with one of its first applications the outsourcing of Eastman Kodak's IT to IBM in 1989 where the key drivers were reduced IT costs and better services. Managed Services grew out of traditional break-fix services as new technologies started to enable service providers to remotely monitor and more effectively manage their clients IT systems.
The number of things that could be described as a Managed Services has progressively increased over the years. In parallel Outsourcing has been used in conjunction with a variety of new terms including Business Process Outsourcing (BPO), hosting and offshoring. Later developments added more such as Application Services Provider (ASP), and in recent years 'Cloud' has been used alongside both Outsourcing and Managed Services.
The terms Outsourcing and Managed Services are being progressively used to describe pretty much any service that you can get a third party to provide. In fact, if you take a look at the Wikipedia definition 'Managed Services are the practice of outsourcing day-to-day management responsibilities and functions' (https://en.wikipedia.org/wiki/Managed_services)!
Market
The focus on Outsourcing used to be around the historic large global or 'Mega' deals such as Kodak. This is a relatively small market compared to the mid-market, and hence it's not surprising that the rate of deals being signed has reduced over the past 20 years with the number of mega outsourcing deals down by 25% in Europe for the first quarter of 2015, with just 128 contracts, valued at €1.9 billion (£1.4 billion), according to outsourcing analysts Information Services Group (ISG).
It's a very different story in the mid-market with new trends and technologies helping to drive the Global Managed Services Market to a projected $229.59 billion by 2020 at a CAGR of 10.20%, from estimate of $128.19 billion in 2014. Most of the organizations have integrated managed services with their IT strategies. MSP's have realized an increase in their profits and service use with managed mobility, managed security, managed network and many other new managed services.
Cost savings
Not surprisingly there is a lot of interest in finding ways to reduce costs, upgrade aging systems and support future business growth. According to a recent Frost & Sullivan report, 88% of businesses believe that they do not have the skills in-house to address these challenges and are planning to consult an external partner to help guide them.
One option is to adopt the same rationale as Kodak did back in 1989 that IT provides a service to the business that could be provided more cost effectively by a partner. Larger Outsourcers struggled to generate enough margin from smaller sized deals to make it worth their while, and smaller providers lacked the infrastructure to provide these services cost effectively.
New developments
In recent years technologies such as Virtualization and Cloud, along with best practices such as ITIL, have helped providers provision services at lower costs and this is helping to catalyze a new wave of mid-sized services deals and a broader and more strategic range of services to be offered.
The feedback is encouraging and a recent survey of 277 outsourcers by the analyst firm HfS Research, and the London School of Economics, 63% of mid-market buyers said their outsourcing initiatives had been very successful at reducing costs. This compares to 44% of larger businesses. In addition 42% of mid-market buyers said their deals were very effective in meeting compliance and regulatory requirements, compared with 30% of large companies. 33% said outsourcing had given them more effective global operations, compared with 18% of large companies.
Conclusion
IT Managed Services have expanded in scope and sophistication so much in the past few years that the distinction with Outsourcing is now largely irrelevant, and the terms are often used interchangeably to describe a range of 'managed' services that can be provided to a customer.
The global business outsourcing market is mature and the activity levels largely reflect this with declining new business sales. In stark contrast the mid-market activity levels are 'booming' with market value projected to grow from $128.19 billion last year to a staggering $229.59 billion by 2020.
It's a particularly exciting time to be in business as a Managed Services Provider and in our next article we will take a look at how their services are changing to meet this growing market demand, along with a few guidelines for businesses looking for a good partner!